December 30, 2020 – In what has already been a disastrous year, some well-known guitarists have left us. Guitarists that brought us joy with their playing, in bands we grew to love over the years. Their music became the soundtrack of our youth or just made us happy whenever we heard them. It's hard to imagine what music would have been like without them and one in particular. With sadness in our hearts, here are the guitarists we lost in 2020.
Tony Rice (June 8, 1951 – December 25, 2020) was an American Bluegrass and Jazz guitarist. He was inducted into The International Bluegrass Hall of Fame in 2013. Revered by many and an influence on some of Country's best known guitarists, his career spanned five decades.
Bucky Pizzarelli (January 9, 1926 – April 1, 2020) was an American jazz guitarist. A New Jersey native, Bucky's career began in 1944. He toured with Benny Goodman, was staff guitarist at NBC in New York and was a member of Johnny Carson's Tonight Show band starting in 1964. Bucky and Les Paul were neighbors and often played together. Continuing to play into his 90s, he sadly succumbed to Covid-19.
Paul Chapman – (June 9, 1954 – June 9, 2020) first joined UFO as second guitarist to Michael Schenker in 1974. When Schenker left for good in 1978, Chapman took over lead duties. His presence was felt immediately when UFO released "No Place to Run" in 1980. His stinging leads, reminiscent of Schenker but still his own, kept the band afloat through the mid-eighties. His bandmate in UFO, bassist Pete Way also passed away in 2020.
Steve Holland (February 22, 1954 – August 2, 2020) – Steve Holland was the last surviving member of the original Molly Hatchet band. During Holland's tenure, Molly Hatchet was a three-guitar band. Holland and Dave Llubek often traded licks and played harmonies together during the lead breaks. Holland was one of the first to leave when Molly Hatchet changed their sound to a more Rock-driven approach. He then formed Gator Country (after the MH song) with former Hatchet band members.
Peter Green – (October 29, 1946 – July 25, 2020) Long before Fleetwood Mac became a hit machine and million-selling artists in the seventies, they were a blues band. Peter Green was their leader who wrote and played lead guitar on several early Mac classics including – "Oh Well", "Albatross", "Black Magic Woman" and "The Green Manalishi." The last two songs listed went on to become hits for other bands (Santana and Judas Priest, respectively.) Reportedly, after a bad acid trip in 1970 and a declining mental condition, Peter quit the music business and was not heard from again for years – not until Gary Moore released a tribute album of his songs – "Blues for Greeny." Ironically, his '59 Les Paul became more famous than the man himself. "Greeny" had a distinct tone due to the magnet of the neck pickup's polarity being reversed by mistake after being serviced. After quitting Fleetwood Mac, Peter sold the guitar to his friend, Irish rocker Gary Moore for roughly $300 and Moore used it on just about all of his recordings through the mid 2000s. Eventually the guitar wound up in the possession of Metallica's Kirk Hammett, who still owns and plays it today.
Leslie West (October 22, 1945 – December 22, 2020) – Received notoriety with his band Mountain for the song "Mississippi Queen" – a rollicking, high octane blues number which showcased his searing vibrato and Clapton-esqe tone. West founded Mountain upon hearing Clapton's playing in Cream and went on to form a band with Cream's Jack Bruce and drummer Corky Laing – West, Bruce and Laing. Revered by other guitarists of his era such as Michael Schenker and Eddie Van Halen, he managed to carve a niche for himself where others had failed.
Sadly, the brutality of the year that was 2020 claimed probably the most innovative and revered guitarist since Jimi Hendrix – Edward Van Halen. A creator of sounds and techniques that had never been heard before, he was an innovator that legions of rock guitar players – amateur and professional revered. He so baffled the music and guitar-playing public with the seemingly other-worldly sounds and intricate playing emanating from his guitar that he stood the Rock world on its ear. Countless players were influenced by him and his songwriting was the perfect blend of catchy rhythms and bombastic solos which together, took the music to another level. A master arranger; even songs that Van Halen covered were oft-times better than the original and took on a whole new dimension. There may never be another guitarist to come along that had his combination of ability and innovation in a package that appealed to the masses. Personally, I liken his loss to that of Gary Moore, who will have left us ten years ago in February but by a factor of ten, perhaps higher. No other loss of a guitarist has ever saddened me more then that of King Edward. RIP Eddie, may you be held in the highest regards through the recorded history of music.
And speaking of King Edward and Leslie West, the two of them were friends and when Eddie's 5150™ amplifiers and Wolfgang™ guitars went into production Eddie sent Leslie a guitar and a full stack. Here they are playing together with Van Halen in the mid-nineties.
If you are all in agreement, let's end the year with a big F*U* to 2020!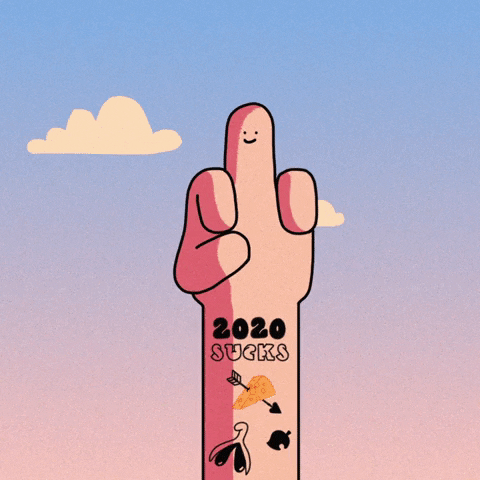 What guitarist that passed this year affected you the most? Please tell us why.
Please leave a comment. Note: if Facebook comments fail to appear using newer versions of Firefox you must add guitargeek.net to your Facebook Container in Firefox.